On Friday I received a text from one of my closest buddies informing me that Stacy, one of my college friends, had committed suicide. I was immediately overcome with emotion – a whole bucket full of sobbing, cursing, shouting, and stunned silence to boot. Frankly, there were brief moments where I was inconsolable. Something was breaking in me. Indeed, the depth of anguish and sorrow was so profound that there were times I even wondered where it was coming from. But here are my thoughts.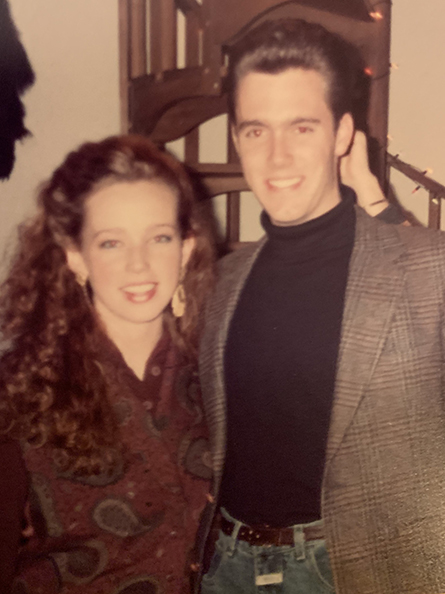 I've said many times that the greatest gift I ever received from Baylor were the friendships formed over those four years in Waco. For me, that brief chapter in life was almost magical. It seemed the bonds of friendship were formed quickly our first semester as freshmen. This gaggle of kids who were trying to figure out who they were and who they wanted to be immediately connected; we ate lunches together, took road trips, opened God's Word and prayed for each other, danced with each other at various formals and local honky-tonks, always stopped to talk if we saw another of us walking around campus, and even a few shared brief romances that we reflect upon with more fondness than embarrassment. We laughed a lot, spoke of spiritual things, and offered our shoulder for those who needed to shed a tear or two.
Stacy was firmly fixed within the constellation of those friendships, almost as a sister we wanted to protect. Our sophomore year she even moved to the apartment complex that we guys had chosen so she could be with us. Maybe she felt we would protect her as well. Truth is we would have done anything for Stacy. Everyone loved her because she embodied the best of what those friendships looked like – a godly woman, a godly friend. She just joined in with everyone else as we learned how those kinds of friendships could be formed.
To look back on those times is to be awash with a little nostalgia and quite a bit of melancholy where one hearkens for the "good ole days" when life was simple, beautiful, and innocent. Sure, it might've been a little on the naïve side – it is college – but those relationships were sincere, hopeful, spiritual, and powerful enough to leave an impression on me for what defines real, godly friendships. In fact, it's almost darn near ruined me ever since.
So it's possible that in my mind's eye I want to keep those years at school and the people I loved in them untouchable. I felt like in those friendships I was given a masterpiece painting, something priceless and rare, a possession many would want but few would ever find. It was so meaningful I have hung it high above on the mantle of my heart where it would serve to inspire me and drive me to better friendships in life. In way, Stacy represented not only a dear friend but the grace of best kind of friendships.
So when I got word that she committed suicide it felt as if someone or something drew a big black mark across the canvas. The beautiful and good was disfigured and marred. It was a tragic way to be reminded that the brokenness of sin sinks its claws into everything. And that you don't get to keep anything for yourself that isn't protected from its reach. The darkness not only assaults your present but can assail your past. Thus, Stacy's death felt tragic to me…and in me. Something was stolen from me, and it's not coming back this side of Jesus' return. That's my best guess on why I feel this so deeply.
And that won't change any time soon because this does strike me in my core. The pillars have shaken and there may be a few cracks within. For all the goodness and grace in which those friendships shaped, taught, and blessed me over the years, it only makes sense that when we lose one of us we also lose a little bit of ourselves. That just might be what this is: a losing of Stacy and a little bit of me.
I love you Stacy. Kyrie Eleison.